Nǐ xiǎng xuéxí rúhé zuò táng cù páigǔ ma?
你想学习如何做糖醋排骨吗?
Do you want to learn how to make sweet and sour pork ribs?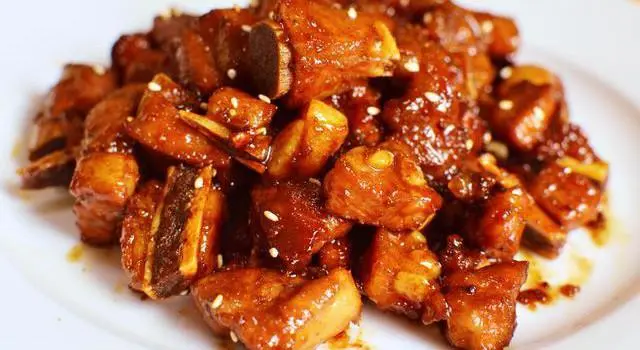 Wǒ jiào nǐ rúhé pēngrèn táng cù páigǔ.
我教你如何烹饪糖醋排骨。
I teach you how to cook sweet and sour pork ribs.
Zhè hěn jiǎndān bìngqiě róngyì jì zhù.
这很简单并且容易记住。
This is very simple and easy to remember.
Nǐ xūyào 500 kè páigǔ
你需要500克排骨,
You need 500 grams of ribs,
Jǐ kuài shēngjiāng piàn
几块生姜片
a few ginger pieces,
一、二、三、四、五
one, two, three, four, five
Yī sháo liàojiǔ
一勺料酒
one tablespoon of cooking wine
Liǎng sháo mǐcù
两勺米醋
two tablespoons of rice vinegar
Sān sháo táng
三勺糖
three tablespoons of sugar,
Sì sháo jiàngyóu
四勺酱油
four tablespoons of soy sauce
Wǔ sháo shuǐ
五勺水
five tablespoons of water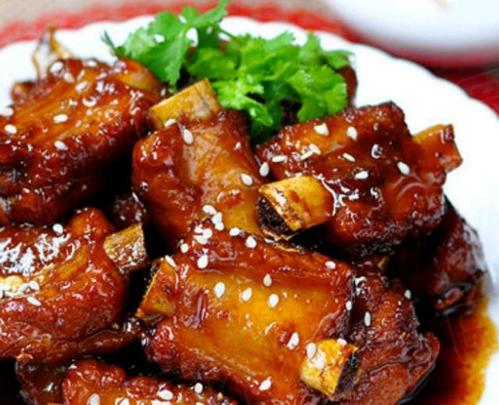 Shǒuxiān, jiāng páigǔ xǐ gānjìng bìng qiè chéng xiǎo kuài.
首先,将排骨洗干净并切成小块。
First, you need to clean the spare ribs and chop them into pieces.
Qícì, jiāng tāmen fàng rù píngdǐ guō zhōng, ránhòu tiānjiā suǒyǒu shícái.
其次,将它们放入平底锅中,然后添加所有食材。
Next, you put them into a saucepan and add all the ingredients.
Xiànzài, dǎkāi ránqì zào, zhǔfèi shíwù.
现在,打开燃气灶,煮沸食物。
Now, you turn the cooker on and let the food come to the boil.
Zhǔfèi hòu, lìjí jiāng ránqì zào de huǒ tiao xiǎo bìng gài shàng gàizi.
煮沸后,立即将燃气灶的火调小并盖上盖子。
As soon as it is boiling, turn the cooker flame down low and put the lid on.
Màn dùn, zhídào jiàng zhī biàn chóu, páigǔ de yánsè biàn shēn hé fā liàng wéizhǐ.
慢炖,直到酱汁变稠、排骨的颜色变深和发亮为止。
Let it simmer until the sauce is thick and the colour of the ribs is darkish and shining.
Finally pour the ribs to a plate and serve.
最后,将糖醋排骨放入盘子,上菜!
Finally pour the sweet and sour pork ribs into a plate and serve.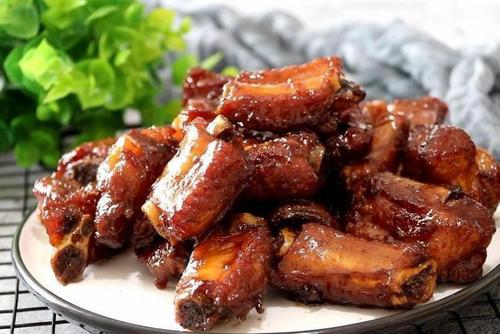 Author: Hongtao Li
Copyright by ChineseTutorLi.com