Today is January 25th, 2023. Do people wear mask on the street in China? Take a look at the video shorts which shows that most poeple don't wear mask any more. I am a Chinese and I live in Chongqing China, let me look back and share with you the common people's reaction to China government COVID policy.
In February, 2020, COVID broke out in Wuhan China. The policy is that people need to stay at home and can walk around in their living commuity. This policy was implemented until May 2020, Wuhan lockdown was released.
Then everyone was happy, and I remembered I took my parents to Nanjing to travel in October 2020. At that time, China was booming, business recovered, but in USA and Europe, it was a disaster.
Then 1n 2021, USA and Europe eliminated the lockdown and excecute herd immunity policy, however, China was still strict. In July 2021, I drove my parents and my wife to Zhangjiajie Scenic spot and Chairman Mao's hometown in Hunan Province, and China's economy seems also good.
In 2022, due to China's CPC conference held in October, so the COVID policy was extremely strict. Shanghai was blockdown for 3 months from April till June. Then my city Chongqing was blockdown in December for a month! During blockdwon, people can only go out for daily necessities purchase once a day. Everything was paused and a lot of businesses went bankrupt. Everyone needs to do the PCR test even once a day!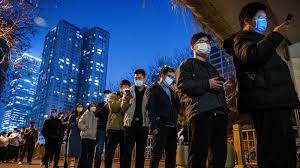 Then, in middle of December, suddenly government announced that the blockdown was released overall throughout China.
Then, people were infected by COVID, everyone was infected, just like 2021 in Europe and USA. I was no exception.
And now, in January 2023, almost everyone was recovered, and even most people don't wear mask on the street.
So China opened already and welcome to China!
If you want to learn Chinese Mandarin, please browse here with great e-learning contents written by me.