In the past thousands of years, China has created a profound and brilliant culture by people's hardworking and wisdom. Technological inventions and achievements play a great role in promoting its economic development and cultural development. In ancient times, China has made great inventions, especially the Four Great Inventions, which are widely regarded as inventions changing the world.  As the philosophical sentence says "As heaven maintains vigor through movement, a gentleman should constantly strive for self-perfection", Chinese people value "constantly improving",, and innovation. In modern times,  we have four great new inventions, creating a more dynamic and human-friendly society.
Four Great Inventions of Ancient China
The Four Great Inventions of ancient China are papermaking, printing, gunpowder, and compass. Papermaking refers to the technology of papermaking improved by Cai Lun in 105 AD, thus it is also called Cai hou paper in China. Before the invention of paper, ancient Chinese write letters on bones of tortoise, bronze wares and bamboo slips.  In 105 AD, Cai Lun used materials like bark and rotten cloth to make plant fiber paper, which turns out to be suitable for writing and convenient to carry. From then on, people have light papers to record events, experience, and knowledge. Papermaking has great significance in spreading knowledge and education and promoting cultural development. For further information about papermaking, please click China's paper-making technology on the silk road.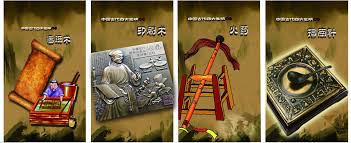 In terms of printing, ancient China has several reforms and innovations in printing.  In the Tang Dynasty (618 AD-907 AD),  woodblock printing is invented, and Diamond Sutra printed in 868 is the earliest block printing works existed. For woodblock printing, one of the most key steps is to carve words on a wooden board. In the Song Dynasty (960 AD-1279 AD), the movable type system of printing and typography is invented by Bi Sheng who uses clay to make words, and words are arranged to print. The processing of this printing is recorded in the Dream Pool Essays written in 1088 AD by Shen Kuo. Later it is improved, and movable words are made on wood and copper.
Gunpowder is invented in the Tang Dynasty, and it is a black or brown explosive made from potassium nitrate, charcoal, and sulfur, and used in the military. In terms of the compass, in the Warring States Period (476 AD-221 AD),  an instrument is invented to give directions, called Sinan, and later, people use the magnet and make a compass. It is widely used in navigation in the Northern Song Dynasty (960 AD-1127 AD), and, in the 13th century, it is spread to Arab and Europe.