Head of State Diplomacy: Focusing on the Long Term and Jointly Promoting the Stability and Progress of China France Europe Relations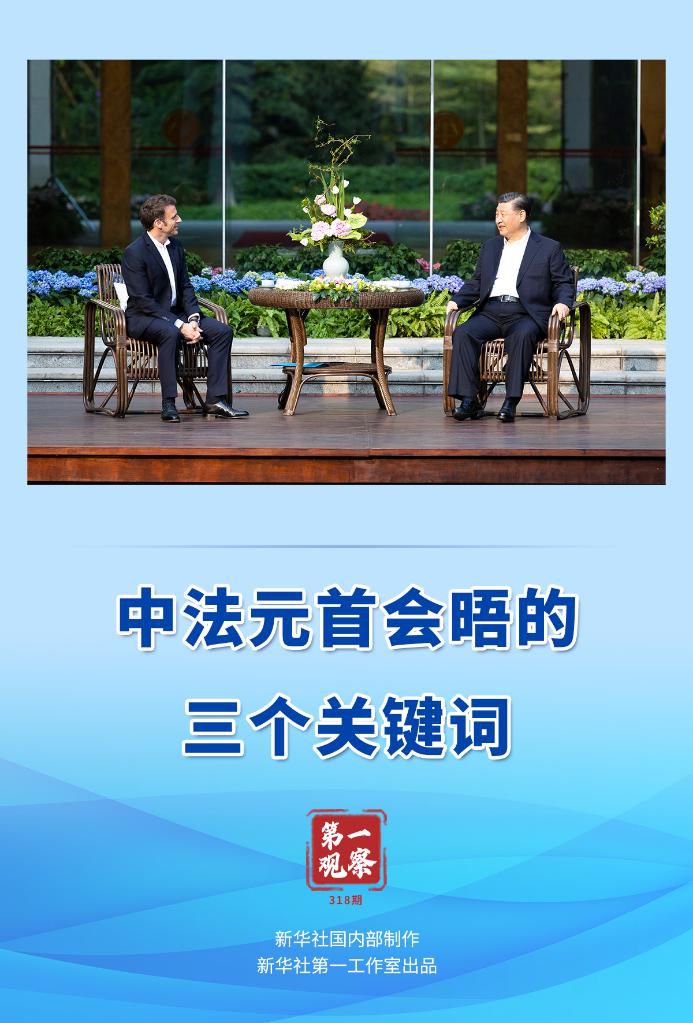 In early April, Beijing was full of flowers and spring.
The world today is undergoing profound historical changes. Face-to-face exchanges between leaders of China, France, and China Europe are not only conducive to enhancing political mutual trust and strengthening dialogue and cooperation, but also to jointly maintaining world peace and stability, promoting common development and prosperity, and jointly addressing global challenges.
Protecting the Stability of China France Europe Relations
Adhering to this spirit, China France relations have always been at the forefront of China's relations with major Western powers.
Looking around the world, the world is not peaceful. Human beings have just come out of the haze of the COVID-19 epidemic, but they are facing unprecedented multiple crises and challenges. The economic recovery is struggling, the development gap is widening, hot issues are emerging one after another, geopolitical conflicts are intensifying, and the global development process is also experiencing serious setbacks.
Practice true multilateralism and maintain world peace, stability, and prosperity.
He said that although the development models of France and China are different, both sides respect each other, have candid exchanges, and have achieved mutual benefit through cooperation in various fields. At the same time, significant progress has been made in cooperation to address the global challenges facing the world today.
China's policy towards Europe will maintain long-term stability, always considering Europe as an independent pole in a multipolar world, and insisting that China Europe relations are not targeted, dependent, or subject to third parties.
China and Europe share broad common interests, with cooperation surpassing competition and consensus surpassing differences. This year marks the 20th anniversary of the establishment of a comprehensive strategic partnership between China and the European Union. Faced with the complex and ever-changing international situation, China is willing to work with the European side to grasp the overall direction and main tone of the development of China Europe relations, comprehensively restart exchanges at all levels, activate mutually beneficial cooperation in various fields, and inject new impetus into the development of China Europe relations and world peace, stability, and prosperity.
Several experts and scholars from European countries recently interviewed by Xinhua News Agency, expressing their expectations and confidence in the continuous deepening and development of China Europe relations. French international expert Bruno Gigg said in an interview with Xinhua News Agency that good Sino European relations are of great significance for maintaining world peace and stability. "Only by placing greater emphasis on strategic autonomy can Europe establish a frank communication and mutually beneficial relationship with China. Romano Prodi, former President of the European Commission and former Prime Minister of Italy, said that EU China cooperation can play a constructive role in global development and governance, and looked forward to resuming cooperation and dialogue at all levels interrupted by the epidemic with China.
Dialogue and cooperation go both ways
Open the list of accompanying executives of Maclon's visit to China, and a number of large French enterprises, such as EDF, Airbus, Alstom, Veolia, are among them. During this visit, the heads of state of China and France jointly witnessed the signing of multiple bilateral cooperation documents in fields such as agriculture, food, technology, aviation, civil nuclear energy, sustainable development, culture, etc., once again demonstrating the abundant vitality and vast space of China and France in deepening mutually beneficial cooperation. The economic and trade cooperation between China and France not only promotes the economic development of the two countries and enhances people's well-being, but also enhances confidence and stabilizes expectations for world economic recovery.
Welcome the French side to continue actively participating in the Guangzhou Trade Fair, Shanghai Import Expo, and China International Service Trade Fair to further expand the Chinese market.
During this visit, the two countries reached a series of consensus on deepening cooperation in various fields: the two sides will jointly celebrate the 60th anniversary of the establishment of diplomatic relations between China and France in 2024 and jointly hold the Sino French Cultural Tourism Year; France will serve as the guest of honor for the 2024 China International Service Trade Fair and the 7th China International Import Expo; The two countries will establish a full chain rapid coordination mechanism from French farms to Chinese dining tables, so that the Chinese people can enjoy the "France on the tip of their tongue" without going abroad; The two sides will also deepen traditional cooperation in aerospace, civil nuclear energy and other fields, and foster new cooperation growth points such as green development and scientific and technological innovation, including the cooperation in the construction of the second assembly line of A320 series aircraft in Tianjin, the joint construction of the China France carbon neutrality Center, and the establishment of the China France scientific research partner exchange plan.
In the past year, against the backdrop of slow global economic recovery, bilateral economic and trade investment cooperation between China and the EU has maintained a good momentum. In 2022, the total bilateral trade in goods between China and the EU reached 847.3 billion US dollars, an increase of 2.4% year-on-year. China and the EU are important trading partners for each other.
As an important achievement of China Europe cooperation, the China Europe Express has reached over 20 countries in Europe, becoming a "stabilizer" and "accelerator" for smooth trade between China and Europe. Throughout 2022, China Europe Express operated 16000 trains and sent 1.6 million TEUs of goods, with year-on-year growth of 9% and 10% respectively. The "steel camel caravan" provides strong support for ensuring the stability and smooth flow of the international supply chain industry chain.
Recently, multiple European leaders have visited China one after another. At the end of March, Spanish Prime Minister Sanchez visited Beijing after attending the opening ceremony of the Boao Forum for Asia Annual Conference. Sino Western relations started a new journey at a new starting point on the 50th anniversary of the establishment of diplomatic relations between the two countries. Dozens of European business leaders attended this year's China High Level Development Forum, expressing their confidence and expectations for investing and developing in China. The exchanges between China and Europe in various fields have rapidly resumed and are fully unfolding. Chinese Foreign Ministry spokesperson Mao Ning said on the 6th, "Almost every week now, China and European countries hold political consultations with the Ministry of Foreign Affairs in Beijing to prepare for the next stage of frequent high-level interaction between China and Europe
The recent hot exchanges between China and Europe fully demonstrate that although there are some differences between the two sides, there is a strong desire for communication and exchange, as well as a broad and profound common interest. In recent years, European companies have chosen to vote with their feet, continuously increasing their investment in the Chinese market and achieving mutual success with Chinese companies. The President of the EU China Trade Association, Hakma, stated that the EU China Trade Association and its member companies have always attached great importance to the Chinese market and are willing to continue to strengthen practical cooperation between the two sides to promote the development of China Europe relations with effective cooperation results.
Von der Leyen said that Europe and China are important trading partners of each other and highly linked economically. "Decoupling" with China is not in the interests of the EU and is not a strategic choice of the EU. The EU independently decides its policy towards China. Makron stated that both sides should work together to avoid falling into the trap of "decoupling and chain breaking", engage in equal and mutually beneficial cooperation, jointly address urgent global challenges such as climate change, and continuously deepen the comprehensive strategic partnership between Europe and China.
Bruno Gigg believes that the interdependence between China and the EU has established a relationship of prosperity and loss for all. If Europe wants to achieve a win-win situation with China, it must break away from short-sighted political strategies and zero sum thinking. China and Europe can fully cooperate in areas where each has its own strengths and can achieve mutual success. Bernard Farge, President of the French Wine Industry Association, said, "We urgently hope to restore past business, tourism, technology, economic and other exchanges. Without a doubt, we urgently need to restore exchanges and friendship between the two countries
Jointly calling for a political solution to the crisis in Ukraine
China's policy on the Ukrainian issue can be summarized in one sentence, which is to promote peace and promote negotiations. China urges all parties to remain calm and rational, and work together to create conditions for peace talks.
The situation in Ukraine is related to European security and global stability. The crisis has escalated for over a year, and China has always upheld an objective and fair stance, actively promoting peace and negotiations, and promoting the formation of joint efforts by the international community to play a constructive role in the peaceful resolution of the Ukrainian crisis. In February of this year, China released the document "China's Position on Political Resolution of the Ukrainian Crisis", proposing a comprehensive, comprehensive, and feasible solution to the crisis, which has been widely recognized by the international community, including the parties involved. In the same month, China released the "Global Security Initiative Concept Paper", which provides a more systematic approach and feasible measures to solve global security challenges.
元首外交丨着眼长远 共同推动中法中欧关系行稳致远
4月初的北京,繁花似锦,春意盎然。4月6日下午,国家主席习近平在人民大会堂同来华进行国事访问的法国总统马克龙举行会谈。随后,习近平主席同马克龙、欧盟委员会主席冯德莱恩举行中法欧三方会晤。习近平主席当天下午还会见了冯德莱恩。4月7日下午,习近平主席在广州松园同马克龙总统举行了非正式会晤。
当今世界正在经历深刻的历史之变,中法、中欧领导人面对面交流,不仅有利于增进政治互信、加强对话合作,也有助于共同维护世界和平稳定,促进共同发展繁荣,携手应对全球性挑战。
呵护中法中欧关系稳定性
在同马克龙总统的会谈中,习近平主席积极评价中法关系保持积极稳健发展势头,强调指出,稳定性是中法关系的突出特征和宝贵财富,值得双方精心呵护。
近年来,在习近平主席和马克龙总统的战略引领下,中法关系保持良好发展,两国战略沟通富有成效,务实合作成果丰硕,在国际和地区事务中保持良好沟通协作。2014年中法两国建交50周年之际,习近平主席将中法建交精神概括为"独立自主、相互理解、高瞻远瞩、互利共赢"。秉持这一精神,中法关系始终走在中国与西方大国关系前列。
环顾全球,世界并不太平。人类刚刚走出新冠疫情的阴霾,但又面临前所未有的多重危机和挑战。经济复苏步履维艰,发展鸿沟不断拉大,热点问题此起彼伏,地缘冲突不断加剧,全球发展进程也遭遇严重倒退。
在6日同马克龙总统会谈时,习近平主席指出,当今世界正在经历深刻的历史之变,中法作为联合国安理会常任理事国和具有独立自主传统的大国,作为世界多极化、国际关系民主化的坚定推动者,有能力、有责任超越分歧和束缚,坚持稳定、互惠、开拓、向上的中法全面战略伙伴关系大方向,践行真正的多边主义,维护世界和平、稳定、繁荣。
马克龙总统则表示,我完全赞同习近平主席对法中关系的积极评价以及就发展双边关系提出的重要建议。他说,虽然法中两国发展模式不同,但双方相互尊重,坦诚交流,各领域合作实现了互利互惠,同时在合作应对当今世界面临的全球性挑战方面取得重要进展。
谈及中欧关系,习近平主席强调,作为全球两大力量、两大市场、两大文明,中欧关系关乎双方福祉,关乎全球稳定和繁荣。中国对欧政策将保持长期稳定,始终视欧洲为多极化世界中的独立一极,坚持中欧关系不针对、不依附、也不受制于第三方。
中欧双方有着广泛共同利益,合作大于竞争,共识多于分歧。今年是中国同欧盟建立全面战略伙伴关系20周年。面对复杂多变的国际局势,中方愿同欧方一道,把握好中欧关系发展大方向和主基调,全面重启各层级交往,激活各领域互利合作,为中欧关系发展和世界和平、稳定、繁荣注入新动力。
多名欧洲国家的专家学者日前接受新华社记者采访,表达了对于中欧关系持续深化发展的期待和信心。法国国际问题专家布鲁诺·吉格接受新华社记者采访时说,良好的中欧关系对维护世界和平稳定具有重要意义,"欧洲只有更加注重战略自主,才能同中国建立起坦诚沟通、互利共赢的关系"。欧盟委员会前主席、意大利前总理罗马诺·普罗迪说,欧中合作可为全球发展与治理发挥建设性作用,期待与中方重启因疫情中断的各层级合作与对话。
对话合作双向奔赴
翻开马克龙访华的随行企业高管名单,法国电力公司、空客、阿尔斯通、威立雅等一批法国大型企业均在其中。此访期间,中法两国元首共同见证签署农业食品、科技、航空、民用核能、可持续发展、文化等领域多项双边合作文件,再次展现出中法在深化互利合作方面的充沛活力和广阔空间。中法经贸合作不仅助推两国经济发展、增进民生福祉,而且为世界经济复苏增强了信心、稳定了预期。
在7日下午的非正式会晤中,习近平主席向马克龙总统介绍了中国式现代化的本质特征和核心要义,强调指出,我们对中国发展前景充满信心。欢迎法方继续积极参加广州交易会、上海进博会和中国国际服务贸易交易会,进一步拓展中国市场。
此访期间,两国就深化各领域合作达成一系列共识:双方将于2024年共同庆祝中法建交60周年,共同举办中法文化旅游年;法国将担任2024年中国国际服务贸易交易会和第七届中国国际进口博览会主宾国;两国将建立"从法国农场到中国餐桌"的全链条快速协同机制,使中国民众不出国门就能享受到"舌尖上的法国";双方还将深化航空航天、民用核能等传统合作,培育绿色发展、科技创新等新合作增长点,包括在天津合作建设A320系列飞机第二条总装线、共建中法碳中和中心、设立中法科研伙伴交流计划等。
过去一年,在世界经济缓慢复苏的背景下,中国与欧盟双边经贸投资合作保持良好势头。2022年中欧双边货物贸易总额达8473亿美元,同比增长2.4%,中欧互为重要贸易伙伴。
作为中欧合作的重要成果,中欧班列通达欧洲20多个国家,成为畅通中欧贸易的"稳定器"和"加速阀"。2022年全年,中欧班列开行1.6万列、发送货物160万标箱,同比分别增长9%、10%,"钢铁驼队"为保障国际供应链产业链稳定畅通提供了有力支撑。
近期,多位欧洲领导人相继访华。3月底,西班牙首相桑切斯出席博鳌亚洲论坛年会开幕式后到访北京,中西关系在两国建交50周年的新起点上再启新程。数十位欧洲商界领袖出席了今年的中国高层发展论坛,表达了在华投资兴业的信心和期待。中欧各领域交往已迅速重启,正全面铺开。中国外交部发言人毛宁6日说:"现在几乎每周中国同欧洲国家都在北京举行外交部政治磋商,为下阶段中欧之间频密的高层互动做准备。"
近期中欧之间的热络往来充分表明,双方虽然存在一些分歧,但更有沟通交流的强烈愿望、广泛深厚的共同利益。"要牵手不要脱钩""要搭桥不要筑墙",近年来欧洲企业选择用脚投票,不断增加对中国市场的投入,与中国企业"双向奔赴",相互成就。欧盟中国贸易协会主席哈克马表示,欧中贸协及会员企业始终高度重视中国市场,愿继续加强双方务实合作,以合作成效促进中欧关系发展。
在中法欧三方会晤时,习近平主席强调,(中欧)双方应该求同存异,相互包容、相互欣赏、相互借鉴、相互促进。冯德莱恩表示,欧中互为重要贸易伙伴,彼此经济高度关联,同中国"脱钩"不符合欧方利益,不是欧盟的战略选择,欧盟独立自主地决定对华政策。马克龙表示,双方应共同努力,不掉入"脱钩断链"的陷阱,开展平等互利合作,共同应对气候变化等紧迫全球性挑战,不断深化欧中全面战略伙伴关系。
布鲁诺·吉格认为,中欧经济相互依存,已建构起一荣俱荣、一损俱损的关系。欧洲如果希望和中国实现共赢,就必须摆脱短视的政治策略和零和思维,中欧完全可以在各有所长且能彼此成就的领域开展合作。法国葡萄酒行业协会主席贝尔纳·法尔热说:"我们迫切希望恢复以往的商业、旅游、技术、经济等往来。毫无疑问,我们非常需要恢复两国之间的交流和友谊。"
共同呼吁政治解决乌克兰危机
习近平主席在同马克龙总统举行会谈和非正式会晤、举行中法欧三方会晤时均就乌克兰危机重申中方立场。习近平主席强调,中国始终根据事情本身的是非曲直独立自主决定立场。中方在乌克兰问题上的方针归结为一句话,就是劝和促谈。中方敦促各方保持冷静和理智,共同为和谈创造条件。
乌克兰局势事关欧洲安全和全球稳定。危机升级逾一年,中国始终秉持客观公正立场,积极劝和促谈,推动国际社会形成合力,为和平解决乌克兰危机发挥建设性作用。今年2月,中国发布《关于政治解决乌克兰危机的中国立场》文件,为解决危机提出全面、综合、可行的方案,得到包括当事方在内的国际社会广泛认同。同月中国发布《全球安全倡议概念文件》,为解决全球安全难题提供了更系统的思路、更可行的举措。
在7日下午的非正式会晤中,习近平主席和马克龙总统继续就乌克兰危机等共同关心的问题深入交换意见。习近平主席指出,乌克兰危机成因复杂,延宕下去对各方都不利,尽快停火止战符合有关各方和整个世界利益,政治解决是唯一正确出路。在乌克兰问题上,中方绝不从私利出发处理问题,而是始终站在公平公正的立场。有关各方都应该承担起责任,相向而行,为政治解决创造条件。
马克龙表示,法方同样认为,政治解决乌克兰危机需要兼顾各方合理关切。法方高度重视中方的国际影响力,愿同中方密切沟通合作,为推动尽快政治解决危机作出共同努力。
中国推动政治解决乌克兰危机的努力得到越来越多欧洲国家的赞同。西班牙首相桑切斯此前表示,西班牙积极评价中方关于政治解决乌克兰危机的立场文件,赞赏中方为此发挥的建设性作用。冯德莱恩和马克龙表示中方不是乌克兰危机的制造者,欧方赞赏中方为推动政治解决乌克兰危机所做努力,期待中方发挥更加重要作用,愿同中方合作,找到劝和促谈的办法。
德国联邦议院议员彼得·比斯特龙说,欧中双方在解决俄乌冲突上拥有共同利益和合作机会,应当通过和平和外交手段解决乌克兰危机,并通过对话实现冲突降级。在法国巴黎法中友好协会副主席利亚齐德·本哈米看来,中欧应就政治解决乌克兰危机寻求共识。真实坦诚的中欧合作将为双方带来政治、经济、环境保护等多领域成果。
欧洲有谚云:"一个人努力是加法,共同努力是乘法。"面对动荡不安的国际形势,面对后疫情时代的风险挑战,中国愿同欧方一道,推动中欧大交流、大合作,在交流合作中增信释疑、缩小分歧,以中欧关系的稳定发展为动荡的世界持续注入确定性和正能量。