China's economy continues to improve, attracting world attention: "decoupling" from China is not in line with reality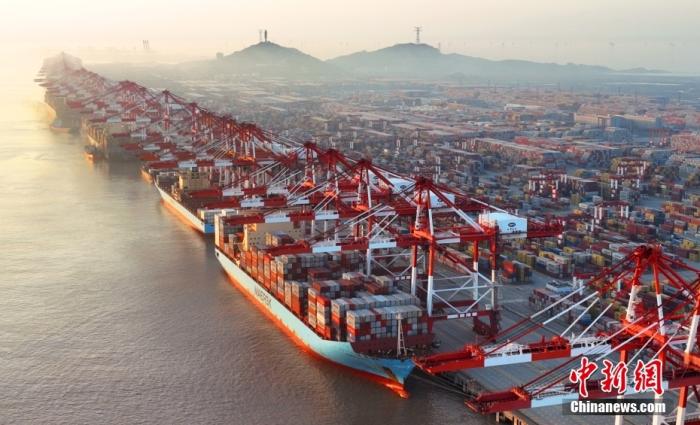 Recently, the International Monetary Fund (IMF) stated that China's economic growth rate is expected to be 5.2% in 2023, and its strong rebound is conducive to Asian and even global economic growth.
The Chinese economy continues to improve and has received widespread attention. The Chinese economy has become the "anchor" of world economic stability, and the argument of "decoupling" from China is also difficult to block the trend of Sino foreign cooperation and mutual benefit.
IMF: Boosting Global Growth
Recently, several foreign media outlets such as CNBC, Bloomberg, and Russian satellite news agency have noticed that the International Monetary Fund (IMF) released the latest version of its World Economic Outlook report on April 11th. The report predicts that the global economy will grow by 2.8% in 2023, a decrease of 0.1 percentage points from previous forecasts. Meanwhile, China's economic growth rate in 2023 was 5.2%.
The President of the International Monetary Fund, Georgieva, stated during the IMF/World Bank spring meeting that a strong rebound in the Chinese economy is beneficial for global economic growth, and warned global policymakers to be aware that supply chain security issues may trigger the risk of a new Cold War.
Krishna Srinivasan, Director of the Asia Pacific Department of the International Monetary Fund, further analyzed that global inflation is slowing but still high, and the pressure faced by the U.S. and European banking systems has injected greater uncertainty into the already complex economic pattern. However, despite the challenges facing the world economy in 2023, the Asia Pacific region remains vibrant.
Krishna Srinivasan pointed out that the economy of the Asia Pacific region is expected to grow by 4.6% in 2023, 0.3 percentage points higher than previously expected, which largely reflects the effect of the optimization and adjustment of China's epidemic prevention policies. This means that the Asia Pacific region will contribute more than 70% to global economic growth in 2023.
"The strong rebound of China's economy will have a positive Spillover effect on relevant trading partners and provide new impetus for Asian economic growth," said Srinivasan.
The Anchor of World Economic Stability
Decoupling from China is not in line with reality
China's continuous expansion of opening-up and sustained economic growth have also attracted the attention of the world. The New York Times has noted that China is moving towards a leading position in the sodium battery industry and will dominate the future of the battery industry.
According to the report, China is preparing to lead a new generation of major innovation in rechargeable batteries: replacing lithium with much cheaper and more abundant sodium. In addition, the most promising use of sodium batteries currently is in the power grid, which is a network composed of transmission lines and towers. The market for grid grade batteries is rapidly growing, especially in China.
On April 10th, Reuters also published a commentary article stating that foreign companies' increased investment in China has "drowned out" some "decoupling" remarks.
Japanese Display Company, a supplier of Apple in the United States, has stated that it will provide OLED technology to Chinese companies and jointly build a display factory; Tesla announced that it will build a new energy storage super factory in Shanghai, with an initial plan to produce 10000 commercial energy storage batteries annually; Airbus Europe plans to build a second production line in China to increase its production capacity.
The two "powerful engines" of the German economy – Volkswagen and the chemical company BASF – are also expanding their investment in China. Volkswagen announced that it will customize its models according to the wishes of Chinese customers and invest billions of dollars in local partners and production bases; BASF is advancing a plan to invest 10 billion euros to build a new chemical production base.
A study by the Kiel Institute pointed out that the cost of decoupling from China is very high for Europe, and considering the close economic relationship between Germany and China, the cost for Germany is particularly high. The institute calculated using the 2019 GDP that Germany may lose over 131 billion euros in revenue.
Recently, some American politicians have expressed similar views. In an interview with Bloomberg, Jay Shanberg, a senior US Treasury official, stated that the United States does not seek to "decouple" from China economically or restrict its growth. This is neither in line with reality nor in our interests.
Former California Governor Jerry Brown told Politico that the idea that some people believe China can be isolated is "naive". Decoupling from China means a deterioration of the US and world economies. Without China, we cannot stabilize the world economy.
中国经济持续向好引世界瞩目:对华"脱钩"不符合现实
日前,国际货币基金组织(IMF)表示,预计2023年中国经济增速为5.2%,其强劲反弹有利于亚洲乃至全球经济增长。
中国经济持续向好,受到多方关注。中国经济成为世界经济稳定之"锚",所谓与中国"脱钩"的论调也难以阻挡中外合作、互利共赢的时代潮流。
IMF:利好全球增长
近日,美国消费者新闻与商业频道(CNBC)、彭博社、俄罗斯卫星通讯社等多家外媒注意到,国际货币基金组织(IMF)4月11日发布最新版《世界经济展望报告》。报告预计,2023年全球经济将增长2.8%,较此前预测下调0.1个百分点。同时,2023年中国经济增速为5.2%。
国际货币基金组织总裁格奥尔基耶娃在国际货币基金组织/世界银行春季例会期间表示,中国经济的强劲反弹有利于全球经济增长,同时警告全球政策制定者注意供应链安全问题可能引发新冷战的风险。
国际货币基金组织亚洲太平洋部主任克里希纳·斯里尼瓦桑进一步分析说,全球通胀正在放缓但仍居高不下,而美国和欧洲银行系统面临的压力,给本已复杂的经济格局注入了更大的不确定性。不过,尽管2023年的世界经济充满挑战,但亚太地区仍充满活力。
克里希纳·斯里尼瓦桑指出,2023年亚太地区经济预期将增长4.6%,比此前预期高出0.3个百分点,这在很大程度上反映出中国防疫政策优化调整的效果。这意味着,亚太地区2023年对全球经济增长的贡献率将超过70%。
"中国经济强劲反弹,将对相关贸易伙伴产生积极外溢效应,为亚洲经济增长提供新动力。"斯里尼瓦桑表示。
世界经济稳定之"锚"
与中国"脱钩"不符合现实
中国不断扩大对外开放,经济持续向好,也吸引了世界的目光。《纽约时报》注意到,中国在钠电池领域朝着"领头羊"地位迈进,将主导电池产业的未来。
报道称,中国正在为引领充电电池的新一代重大创新做准备:用成本便宜得多、储备也丰富得多的钠取代锂。此外,钠电池目前最具直接前景的用途是电网,即由输电电线和电塔构成的网络。而电网级电池的市场正迅猛增长,尤其在中国。
4月10日,路透社还发表评论文章称,外商企业加码对华投资,让一些"脱钩"言论被"淹没"。
美国苹果公司的供应商日本显示器公司表示,将向中国公司提供OLED技术,并共同建设显示器工厂;特斯拉宣布将在上海新建储能超级工厂,初期规划年产商用储能电池1万台;欧洲空中客车公司计划在中国建设第二条生产线,提高其在华产能。
德国经济的两个"强大引擎"——大众汽车和化工公司巴斯夫也正在扩大对华投资。大众汽车宣布,将按照中国客户的愿望定制车型,并向当地合作伙伴和生产基地投资数十亿美元;巴斯夫正在推进一项计划,将斥资100亿欧元建设一个新化工生产基地。
基尔研究所的一项研究指出,与中国"脱钩"对欧洲来说代价非常高,而考虑到德中经济关系的紧密程度,德国的代价尤其高昂。该研究所用2019年的国内生产总值计算得出,德国可能损失逾1310亿欧元的收入。
近日,部分美国政客也表达了类似的观点。美国财政部高级官员杰伊·尚博格在接受彭博社采访时表示,美国不寻求与中国在经济上"脱钩",或限制中国的增长。"这既不符合现实,也不符合我们的利益"。
美国加利福尼亚州前州长杰瑞·布朗则告诉美国政治新闻网(Politico)说,一些人认为中国可以被孤立的想法是很"天真的"。与中国"脱钩"意味着美国经济和世界经济的恶化,"没有中国,我们就无法让世界经济稳定。"